Higher and foundation tier
The carbon footprint
The carbon footprint is the total amount of carbon dioxide and other greenhouse gases produced as a result of a particular organisation or individual carrying out a task or making an item or providing a service. For example taking the bus to school results in the bus burning a fossil fuel, diesel, which releases CO2. The school will also have its own carbon footprint, it will use electricity or gas which both ultimately release CO2. Most of the teachers in the school will have driven a car to school, which will burn petrol or diesel which releases CO2.

Calculating the amount of carbon emitted by something is not always as easy as you might imagine. Consider your journey to school. Let's assume you get a lift in a car. You might assume then that the only carbon you release is from the carbon dioxide produced by burning the fuel in the car. However think about all the activities that have to be gone through in order to get the petrol/diesel for the car into the local fuel station. The image below gives some detail of the carbon footprint for a car journey to school.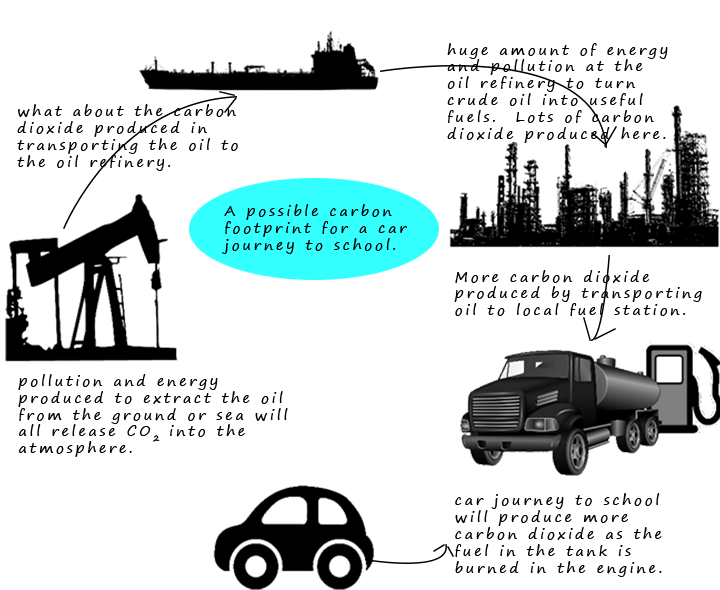 And of course not forgetting all the carbon dioxide produced in actually manufacturing the car and all its components and transporting all these to the factory where the car is assembled and then disposing of it when the car reaches the end of its life. So perhaps it is easy to see that the carbon footprint is probably much larger than most people imagine.

Now consider all the items and activities that you do in say one week and think about all the pollution and carbon dioxide that has been added to the atmosphere to enable you have these things and do all those activities. Although it may prove difficult to calculate the your total carbon footprint but there are a number of things that as individuals we can do to reduce our carbon footprint e.g.
Improve the insulation in our homes, this will allow you to turn down your heating thermostat and burn less gas/use less electricity.
Turn off appliances when they are not in use. Do not leave items on stand-by mode and use energy efficient appliances and devices.
Use your bike for short journeys and public transport for longer ones. This will reduce your CO2 emissions.
Only buy food produced locally and buy seasonal food. Do you need apples from New Zealand when English apples are just as good?
Avoid single use plastic, paper and glass products. Recycle as much as you can. Not only will this save on CO2 emissions for transport to landfill but also reduce emissions of methane as waste material rots in the ground.
Compost all organic waste.
There are also many things that can be done by organisations and governments to reduce the carbon foot print of the U.K. These include:
Burn less fossil fuels in power station by using more renewable energy sources such as wind, wave and solar to generate electricity.
Use nuclear fuels to generate electricity. These produce no CO2
Tax car owners to encourage them to buy smaller more fuel efficient cars or provide financial incentives to switch to electric vehicles.
Increase the amount of biofuels in petrol, currently petrol contains 5% alcohol made from biofuels.
Invest in carbon capture and storage (CSS), here the carbon dioxide produced by burning coal and oil to generate electricity is trapped before it enters the atmosphere and is stored underground in disused mines and oil wells. However CSS is very expensive, so a choice needs to be made.
Limited action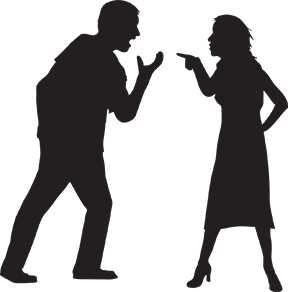 Despite the climate emergency which many scientists believe we are experiencing now, action to reduce global emissions of carbon dioxide and methane are not always very successful with many governments failing to meet their targets for reductions. The reason for this are varied and many, but include:
Many governments simply cannot agree on what needs to be done and by when and by how much countries need to reduce their carbon emissions.
The cost of using renewable energy resources can be expensive when compared to that of the traditional fossil fuels. Although the cost of renewables is dropping all the time as more countries start to use this technology.
Many governments are concerned that making many of the required changes will affect the economy and economic growth which could lead to people losing their jobs and livelihoods, especially when not all governments agree to cut their carbon emissions as well.
Restrictions on carbon emissions will affect developing countries more since they have less money to develop new technologies.
People are unwilling to make changes to their lifestyle due to lack of education on the subject. Perhaps the government needs to make people more aware of the issues that increased carbon emissions will cause in the future and why people need to make changes to their lifestyles now.
Governments have been unable to reduce the amount of deforestation taking place globally. Mainly this is due to economic reasons with some countries eager to take advantage of the money available from deforestation.
Next